Behind the graphic designer
A native of Michigan and having originated from "Downriver Area" (South of Detroit, MI), I attended College of Creative Studies – Detroit and acquired my fine arts bachelors degree in Graphic Communications with a concentration in Graphic Design. Since then I have held a small number of in-house positions from a graphic designer with small marketing agencies to my current position of Art Director with Marketing Impact / PrintComm. I have applied my talents within a wide range of industries such as automotive, hospitals, recreational vehicles, credit unions in media channels like branding, corporate brochures, direct mail, and web development — all while simultaneously maintaining this freelance business.
But being a graphic designer isn't what drives me completely. I owe all my creativity to the greatest Creator/Designer to ever exist, my hope and salvation in God almighty. That, and some credit to Legos and Crayola for helping me develop creative and technical skills at such an early age. When all is said and done, nothing that I can design or create can be compared to The Almighty. I didn't make the colors, or the materials used to create paper and personal computers, He did. He did give me the talent & ability, however, to put it all together.
My creativity expands into some great fun hobbies like the traditional fine arts, drawing and painting, playing the piano and guitar. My beautiful wife Heather and amazing kids Meara and Aidan are my true inspiration to continue in excelling in this creative realm that I live in everyday. I have been honing my skills as a graphic designer for over 21 years and currently reside in the Swartz Creek, just west of Flint, Michigan. I have won some awards along the way among some of design peers. But designing for awards isn't what drives me. Providing small businesses the opportunity to have highly creative, talented solutions to all of their print and website needs is so much more rewarding.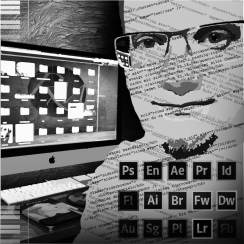 WHAT I AM PASSIONATE ABOUT